The Most Important Massage to Learn: Pain Relief Combined with Relaxation (8 CEs, Live)
Grow your client base by delivering the massage that most people want—a massage that combines both relaxation and pain relief elements. At the end of this class you'll have killer transitions, more tools in your "pain-relief massage" toolkit and the confidence to deliver a great combo massage.
Price: $97
---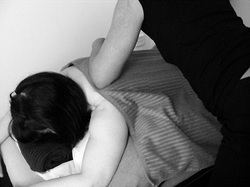 Delivering Deep Pressure without Hurting Yourself (NCBTMB approved, 4 CEs, Live)

Yes, doing deep pressure is hard work--but are you making it harder than it needs to be? Reduce and/or eliminate pain often associated with delivering deep pressure by learning how to use leverage to your advantage and by uncovering the massage tools and techniques that don't hurt your body. This class is customized to each participant's needs.

Price: $50
---
Massage for Pain Relief: Sciatica and Back (NCBTMB approved, 4 CEs, Live)

Do you get a little nervous when someone with sciatica walks through the door? This class will help you successfully treat a client with sciatica (and other back conditions) from intake to exit. You will learn how to provide pain relief through precise and appropriate pressure using origin and insertion massage (using techniques that are best for your body), how not to exacerbate symptoms and how to empower the client for better treatment management outcomes.

Price: $50



---
Ethics (NCBTMB approved, 4 CEs, Live)
This class is a lively discussion course and provides practical and comprehensive ethical information for employed and self-employed MTs. Think back to the past year and bring your real-life questions in!
Price: $50



---
Massage For Pain Relief: Neck, Head, Jaw (NCBTMB approved, 4 CEs, Live)
Learn how to navigate the lamina groove and work cervical rotatores and multifidus with precision and confidence. This class covers pain relief for neck,head and jaw conditions using precise pressure on muscle attachments, tight spots and problem spots using techniques that are best for your body.

Price: $50
---
Massage For Pain Relief: Shoulder, Arm, Hand (NCBTMB approved, 4 CEs, Live)
Is the client exhibiting carpal tunnel syndrome or cubital tunnel syndrome? Learn how to differentiate between and provide pain relief for thoracic outlet syndrome, rotator cuff injuries, tennis elbow, cubital tunnel syndrome, carpal tunnel using origin/insertion massage in a way that is best for you body.

Price: $50
---
Massage For Pain Relief: Hip, Leg, Foot (NCBTMB approved, 4 CEs, Live)
If you work with athletes than understanding hip, leg and foot conditions is a must. Learn how provide pain relief using origin/insertion massage to treat the following conditions: plantar fasciitis, shin splints, IT Band Syndrome, hip bursitis, and piriformis syndrome; and discover new ways to work deep leg muscles without beating yourself up.


Price: $50
---
Hotel Massage (NCBTMB approved, 8 CEs, Live)
Hotel massage can be a great way to earn extra money. In this live course (at a hotel) you will learn marketing, relationship building, table set-up, hotel massage protocol, safety and stress-free money collection options.

Price: $97
---
Website Design and Launch for Massage Therapists (NCBTMB approved, 8 CEs, Live)Who can afford to pay for a website? Now you can build and manage your own website without any website experience. This course is exclusively designed for massage therapists and the technically challenged!


Price: $97
---
Website SEO and Google Places for Massage Therapists (NCBTMB approved, 8 CES, Live)

Getting noticed on the Internet can be time-consuming and expensive. This course cuts through the layers of complexity and delivers a streamlined process for getting your website seen by potential customers and requires zero IT experience.

Price: $97
---
Why I create massage classes:
I was prepared to do a massage after I graduated from massage school, but I can't say that I was prepared to be a massage therapist. I figured that I'd gain everything I needed as I got more experience. But that wasn't necessarily the case.
In fact, 5 years after graduation I found myself an injury away from having to find a new job. I was worried and feeling lost.
But then on a cold October day,
Xentho (who liked to be called "X") mysteriously showed up at my massage room door looking for work.
The X Factor
X was a big man with a big heart who didn't mince words. He had amazing hands and used his big elbow as if it were a fine-tuned thumb.
"Mark," he would say, "you're working too hard. Stick your elbow in there." Then he would show me what he meant. He would lean into the person on the table. Then to emphasize how little strain it was on his body, he would close his eyes, pretending to go to sleep. (I think he actually did sometimes.)
For a year or so we traded massages and experimented with new approaches to pain relief massage and new ways to save our bodies. It was a time of incredible learning and discovery.
Massage Shouldn't Be That Hard
Then one day my friend disappeared, just as mysteriously as he had appeared. I was sad...but I was also inspired. Now I got it. I finally understood what mattered most and what was missing in my massage life:
reliable
real-world knowledge.
Since the day X left, my mission has been threefold: 1. to figure out how to get the best results with pain relief massage, 2. to minimize/eliminate MT injuries/pain conditions and, 3. to help MTs get what they want out of massage (and life) by providing the specific tools, extra knowledge and encouragement they'll need for the journey.
I'm honored and really glad you are here.
My Work
I graduated from massage school in 1992 and was certified in St. John's
neuromuscular therapy
three years later. In 1997, I opened my first massage office and got bitten by the entrepreneur bug. A couple of years after that, my wife, Lisa, and I opened The Massage Institute, a massage business and our lab for developing CE courses.
I maintain a private massage practice in Phoenixville, PA. Lisa and I recently opened
PressurePerfect(TM) Massage
, a massage business based on
conscious capitalism
. The PressurePerfect(TM) location is also where we teach our CE classes and I coach massage therapists.
Writing for health and wellness magazine keeps me up-to-date on the latest information. Some publications that I've written for include Massage & Bodywork Magazine, Massage Magazine, Body Sense Magazine, The Philadelphia Inquirer, Buffalo News, Main Line Times, Running Times Magazine, Spirituality & Health Magazine, and Well Being Journal. You can find links to my latest massage articles at
MaketheMostofMassage.com
Lastly, I blog about things that can have an
immediate
and
positive
impact on the lives of MTs. After all, life is too short to be wasting time on anything that doesn't move you towards your goals and success. You can read my latest post at
MakeTheMostofMasssage.com
My Contact Information
You can connect with me via
email
or
Facebook
.
To your success!
Mark
​P.S. I have demo tutorials on Youtube.
​
​
Massage Institute
702 Lancaster Avenue
Berwyn, PA 19312
​610-935-5902